Since their discovery in 1991, carbon nanotubes (CNTs) have stirred considerable excitement in both the academic research community and among industry sectors due in large part to the technology's potential for a broad range of new applications.
In their simplest form, CNTs are seamless cylinders of graphene film with diameters close to only 1 nanometer (nm). As such, they exhibit an unprecedented range of properties singularly unequaled by any other nanomaterials, including exceptional mechanical strength and flexibility and high electrical and thermal conductivity.
However, until quite recently, CNTs were available only in very limited quantities and at exorbitant prices catering primarily to the research community. Today the situation has changed significantly. Large-scale quantities are now becoming available at annual production capacities, depending on the grade, in kilograms, tonnes, and even thousands of tonnes.
Consequently, unit costs have plummeted and, with the promise of market breakthroughs, are expected to decline further over the next five years. Many industries are now seriously exploring new commercial market opportunities for CNTs.
Today the CNT-polymer composites market is by far the largest product consumer of commodity-grade multiwall carbon nanotubes (MWNTs). It has the potential to expand significantly. Growth in this areas is spurred by the promise of increased lightweight-strength and exceptional electrically conductive characteristics of CNTs used for example in automobiles, sports equipment, and wind turbines.
Eventually, this technology is expected to penetrate the aerospace and military sectors. Breakthroughs in other matrix composites -- such as metals and ceramics -- as well as yarns, cables, and webs used in smart network sensors are among other emerging developments.
In the electronics sector, touch screens, thin-film transistors for displays, and market entry of the first memory products are anticipated. Among energy storage applications, CNT-enhanced lead-acid and Li-ion (lithium-ion) batteries, fuel cell, and supercapacitor products will be launched.
Finally, among other CNT-based product applications, strong commercial candidates are anticipated in medical diagnostics, industrial coatings, security, membranes/separation, instruments, and sensor market sectors.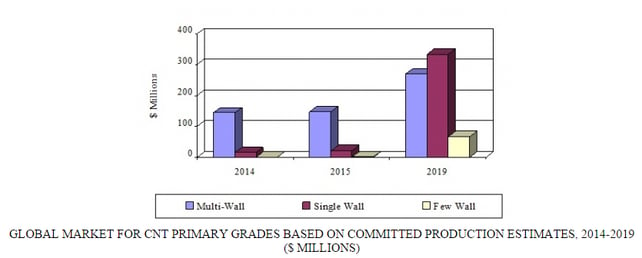 Source: BCC Research, "Global Markets and Technologies for Carbon Nanotubes," June, 2015
According to the BCC Research's Global Markets and Technologies for Carbon Nanotubes (NAN024F), the global CNT market was valued at $158.6 million in 2014 and is expected to reach to $167.9 million in 2015. BCC projects the market to grow to nearly $670.6 million by 2019, and register a significant five-year compound annual growth rate (CAGR) of 33.4%.
"Among the numerous categories in the evolving field of newly synthesized nanomaterials, carbon nanotubes are perhaps among the most dynamic and undergoing the most rapid pace of development," says BCC Research nanotechnology analyst John Oliver. "The past 15 years have witnessed relentless growth in the research, development, and technological understanding of these remarkable materials. Universities, small businesses, and start-ups, as well as large corporations, have continued to probe and exploit numerous commercial possibilities for these fascinating materials. As a result, the list of product applications is expanding considerably and is projected to do so well into the future."
MARKET CHALLENGES
Today, the CNT industry has the production capacity to meet the demand of current market users. However, apart from fulfilling the volume output of a specific product, invariably the end user requires further assistance in its integration with the manufacturing environment. Depending on the sophistication of the final product, this can put considerable onus on the part of the producer. The industry has now evolved to meet the challenges of end-product integration.
CNT consumers already require a diverse range of technical needs. In the foreseeable future, this will result in an ever-increasing number of specialty, as opposed to commodity, CNT grades. Achieving the ultimate performance potential of a given CNT grade will also demand close work between the producer and end-product manufacturer.
COST/PERFORMANCE BALANCE
At the moment, with the exception of earlier-producing companies such as Hyperion Catalysis International, newer large producers such as Arkema and CNano Technology, among others, are now beginning to exploit a much larger CNT application market. As the industry evolves and consumers begin to better understand and define their performance needs -- dimensional requirements, defect levels, impurities, and morphological purity -- cost/performance balance will become a critical issue for producers.
The initial challenge will be to secure market entry. Following this, competition among rival CNT producers will undoubtedly begin to take effect.