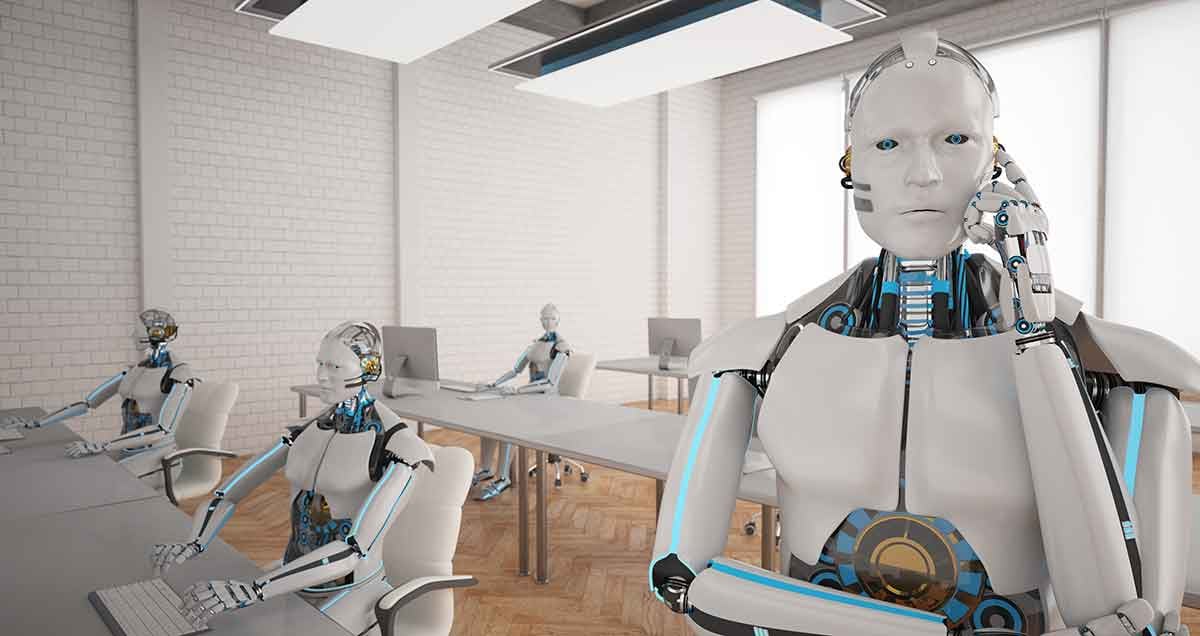 Long before the dawn of the digital age, Hollywood gave rise to the fear that one day, robots will become too intelligent for their own good. At a glance, these fears are valid – particularly when you look at the vast innovations and developments taking place across the industry. Humanoid robots have an abundance of intelligence and the extent of the tasks they are programmed to complete is growing. However, it's important to remember that these robots aren't built for mass human destruction. Rather, they provide a window to the future of technology, where robots may become fully integrated into humanity.
IMTS is in full swing, and our team is down on the show floor in Chicago as we speak! With the buzz of the event, we at BCC have pivoted our attention to the innovations of the manufacturing technology industry.
If you would like to catch up with what our team has been up to at IMTS, sign up to our post show report by tapping the link below:
Sign up to receive our post show report.
Humanoid robots in action
We've heard it all before: in the future cars will fly, and that we'll live beyond 100 years old with ease. While not necessarily true, with the innovation of humanoid robots, our predictions for the future of artificial life have been playing out fairly accurately... Minus a few mass-extinction events, thankfully.
Technology has been slow evolving, but humanoid robots are in use today in many different sectors. In robotics taxonomy, humanoid robots are part of the larger 'service robots' and overlap significantly with another subcategory: 'social robots.'
But how do we define the two?
Humanoid robots are artificial intelligence machines that resemble humans but do not necessarily require interaction capabilities. Social robots on the other hand can provide companionship, care, and information, but need not look anything like a human being.
Some examples of humanoid robots are:
Ocean one

- a bimanual underwater humanoid robot created by the Stanford Robotics Lab to explore coral reefs. Ocean One can reach depths that most human beings cannot. It is a perfect synergy of robotics, haptic feedback systems, and artificial intelligence.
ATLAS, built to carry out search and rescue missions and was developed by Boston Dynamics. It can navigate its way through tough terrain and obstacles in its path using its range sensing, stereo vision, and other sensors.

Pepper

: imagine a robot that can assess and react to your emotions such as anger, joy, or sadness. No robot does it better than Pepper. It was built by SoftBank Robotics to serve as a humanoid companion who can communicate in a natural and intuitive manner. Pepper can interpret one's facial expressions, tone of voice, and other non-verbal cues, and respond appropriately.
These humanoid social robots, which do resemble humans to an extent, are the kind that we will scrutinize in the applications and developments happening now and in the future. The humanoid robot market is expected to increase from $55.8 billion in 2021 to $91.8 billion by 2026, at a compound annual growth rate (CAGR) of 10.5% during the forecast period 2021-2026.
Digit and design, a guide to humanoid robots
At BCC Research, a 2020 innovation spotlight on Agility Robots, looks at the future of humanoid robots. The report also details an interview with Agility Robotics Co-founder and CEO Jonathan Hurst, Ph.D., which offers insight into the exciting innovations happening in the industry. Agility's first commercially available humanoid robot was Digit. At the time of the interview, Digit had just been released, however, the technology raised some exciting questions about the ability of humanoid robots.
Johnathan Hurst revealed: We have now released Digit, our humanoid robot, which begins to enter true vertical markets in logistics and package delivery. We're capturing the core physics of legged locomotion, using the same set of dynamics that animals do; and when we capture those physics right, the movement looks completely natural, and is also very robust to significant disturbances.
BCC: What does Digit bring, that previous models do not?
Jonathan H: Digit is the first commercially available humanoid robot. It is designed to operate in human spaces and be able to do whole-body manipulation like lifting a package from the ground to a shelf.
BCC: What do robots like Digit mean to existing factories and other workspaces, from a design point of view?
Jonathan H: Digit's role in automation is to operate in spaces designed around humans. That means minimal infrastructure changes required Digit to do a variety of different tasks. Many of the early tasks will eventually be custom built-infrastructure automation, but the market is so vast, that there's plenty of room for Digit-style automation to handle tasks originally designed to be done by humans, but which are dull, dirty, dangerous, or which people won't want to do.
Jonathan's insights into Digit allow us to see the factors which manufacturers must consider when employing a humanoid robot to fulfill tasks. Features of Digit which are helpful to see how robots can enroll in society are:
Digit's arms are designed to help with the robot's mobility and balance, as they swing in coordination with the gait.
Digit's arms also allow Digit to catch itself when it falls and re-orient its body to get back up.
Digit is strong enough to pick up and stack boxes weighing up to 18kg (40lb).
Humanoid robots that are designed with the intent of replacing humans in the workplace are the biggest opportunity within the industry. The potential to perform dangerous tasks in lieu of humans is an attraction to organizations and industries alike. Allowing humanoid robots autonomy as part of their evolving AI, they have the potential to guide us through massive airports, direct our traffic as well as comfort and care for the ill and elderly. They can function as a well-informed salesperson, and be deployed to assist in evacuations or more general tasks such as meet and greets at entry points of institutions.
The bottom line
So, it's clear humanoid robots have evolved and could replace humans in positions that are dangerous or equally banal to perform. Agilities robot, Digit, also has plans to transform and become even more humanoid with the proposed addition of hands, face, and additional sensors to make people feel more comfortable around the bipedal robot.
Click here to download a copy of the report overview for an up-to-date analysis of the global robotics market.
To read more on what BCC analysts have to say about humanoid robots through to 2025 click here and become a bcc member today. Discuss the benefits of membership today with a member of our team!