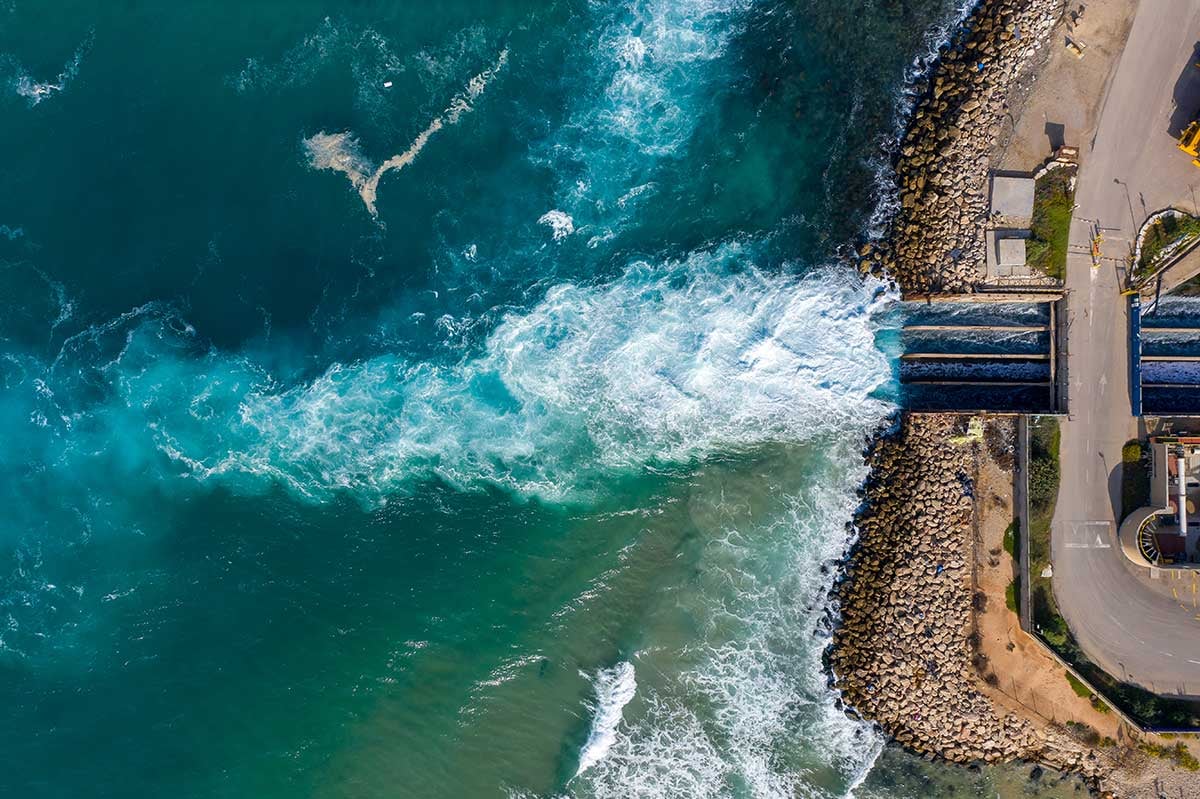 Access to safe drinking water is one of the great challenges of modern times, to which there is no definitive answer. Freshwater sources are declining at an alarmingly fast rate. Demand is outstripping supply, which means the global population could be faced with a grave shortage of drinking water very soon. With climate change accelerating the depletion of our freshwater reserves, the need for new sources is clear.
In solving this problem, many turn to the almost unlimited supply of water we do have available to us: the ocean. While its salt content renders it undrinkable, desalination can provide an answer to our dwindling resources. And it's gaining traction.
Key definition – desalination is the process of removing salt from sea or bracken water. One way of achieving this is through boiling water and collecting the steam, leaving the salt behind. The other is by reverse osmosis (RO), which forces salt water through partially permeable membranes to filter out unwanted particles.
Desalination has several downsides. It's costly, environmentally challenging, and, many argue, an inadequate solution to the man-made problem of drought. Despite these drawbacks, the industry is entering into a period of expansion with BCC Research forecasting market growth of $7 billion over the next five years.
Desalination could address global water shortages
Water scarcity is a mammoth issue, one that's only going to increase in scale. By 2050, over half of the world's population will live in water-stressed regions, says the OECD.
California is one example of a highly populated region that suffers from well-documented drought issues. This is driving governments and scientists to find an immediate, large-scale solution. "Desalination can be a sustainable way to replenish our water cycle," says a recent study from Water Research.
With new technologies making waves in desalination, the process is an even more attractive prospect. The membranes used in desalination are notoriously tricky to create, but new developments in 3D printing could potentially address this problem. While the technology is still in its early stages, news from the University of Bath represents a light at the end of the tunnel in mass-producing desalination technologies.
The costs of desalination are lowering
Desalination is an expensive process. Compared to conventional water processing, the technologies for desalination aren't yet competitive. In the past 25 years, desalination costs have decreased by more than half – and recent projects in the Middle East have broken records for the lowest desalination costs. Some plants claimed to have achieved prices as low as $0.31/m³, though these are still high rates compared to conventional water treatment schemes. Increased use of renewable energies in powering desalination plants could ensure the prices continue to drop, making the process more viable on a large scale.
The environmental cost of desalination
Perhaps the most convincing case against desalination is the environmental impact. Indeed, desalination uses large amounts of energy, discharges considerable carbon into the atmosphere, and emits a toxic by-product in the form of concentrated brine. Work has been done to make the process more energy efficient, and at present, reverse osmosis systems can operate at 2kWh/m³, regarded as close to the practical minimum.
Despite these efforts, brine is still an unavoidable component of desalination. It's commonly dumped into oceans and seas, polluting the marine environment due to the increased salinity and temperature. Brine sinks to seabeds, stifling and poisoning aquatic life with chemicals.
With the threat to marine life severe, more regulations will likely come into play. As brine disposal becomes more stringent, the prices will climb, thus increasing desalination plant operating costs.
Growth is on the cards for the desalination market
Some argue there's no perfect answer to water shortages. While desalination has a long way to go, there's a promising future ahead for improving efficiency and limiting damage. The proof is in the numbers: BCC Research is predicting strong growth for the desalination market (a healthy 8.1% CAGR), which puts the industry in good stead to deliver more positive outcomes.
The potential for this industry to solve global issues is apparent. Learning about the ins and outs of desalination is invaluable to those operating within the industry – whether that's in business, technology, or compliance. BCC Research's report 'Seawater and Brackish Water Desalination' acts as a source of information that can guide vital decision-making and improve stakes in the market.
Download your complimentary overview of our report, or purchase the report in full here.
We have an abundance of reports on membrane and separation technology that can be accessed with a BCC Research library membership. Enquire today through the button below.