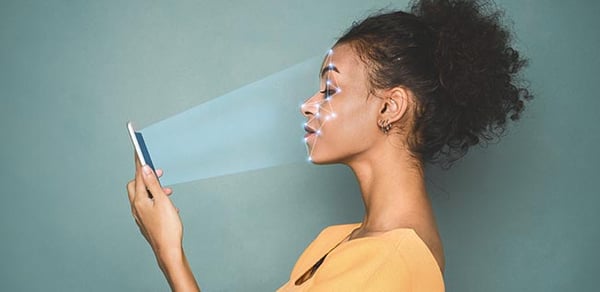 Traditional recognition methods have ruled the security technology industry for a long time. But their status just got challenged...and they lost.
Entering the scene as the new victor is biometric technology. Ranging from facial recognition to vein recognition, these new technologies are not only more accurate than traditional methods, but they integrate seamlessly into consumers lives, making them an easy-to-adapt feature in cellphones, home security set-ups and more. They're also more user friendly than traditional recognition methods as users don't need to remember passwords and they can control features, such as locks, remotely.
A global trend, biometrics are being adopted worldwide. Today, biometric technologies are well infused in everyday life, which is why this slow but consistent trend is solidifying itself even if it's not a notable transition. There are a few different types of biometrics, and each provide their own pros and cons.
Types of Biometric Recognition
Facial recognition is fast becoming a familiar feature in apps and on websites. While facial recognition isn't a new technology, it has certainly evolved. A new generation of algorithms; a rising number of online and offline databases; and the increased integration of cameras in consumer devices are making facial recognition a growing part of daily life. For example, police officers now have facial recognition technology in their phones. Under the best circumstances, facial recognition has a 99% accuracy rate in identifying people.
Vein recognition technology is not as well-known as facial recognition, but is growing in use, as it presents fewer privacy concerns and avoids the criminal stigma of fingerprints. Vein patterns in the hand are claimed to be stable over a person's lifetime, barring trauma or surgery that would otherwise alter them.
Compared with other biometrics, finger vein recognition systems offer advantages such as high accuracy, resistance to criminal tampering, speed of authentication and compactness. Other factors driving demand for vein pattern recognition technology in everyday life include its user friendliness, safety and low false-rejection rate. The integration of this technology with other biometric recognition methods such as hand and fingerprinting methods poses tremendous market opportunities. The major hurdle in the growth of this market is the higher cost of these systems compared with other biometric solutions.
Voice/speech recognition identifies people based on the differences in their voice resulting from physiological differences and learned speaking habits. The use of speech recognition biometric technology to identify people has become a real-world application, considered by companies worldwide as a powerful fraud prevention tool and, more importantly, as a way to improve relationships with their customers.
Voice/speech biometric technology provides customers with a more secure form of authentication. Banks and financial institutions have already begun to use this authentication method in contact centers in several parts of the world, with customers reporting increased satisfaction and assurance with this new process. Mobile applications have also begun to use the technology, allowing users to interact with the application entirely by voice, for a much easier and more intuitive experience. This biometric technology in particular helps those who are visually impaired, those who have motor difficulties, and those who are less technologically savvy.
Biometrics is an ever-changing field that can be integrated into just about anything that requires a security protocol. The biometric technologies listed above are just a few of the ones available. Emerging biometric technologies such as DNA recognition, gait recognition and affective computing are set to experience high growth as multiple industries implement them into their systems.
While the cost of implementation is high, the benefits of increased security, peace of mind, reduction of man-hours and the increase in accessibility offered to people with varied abilities may justify the cost.
For additional intel into the biometrics market, download a free overview of our report, Biometrics in Everyday Life.