Faster, cheaper, easier, more convenient. It's a universally applicable mantra that could pertain to any number of things. But in medicine, lab-on-a-chip (LOAC) microfluidic devices promise to eliminate the need for a lab and to bring testing to the patient's bedside. Alongside microarrays, LOAC devices are a major biochip type, and, like microarrays, are an enabling technology for the life sciences. The biochips industry and its supporting platforms are undergoing a transition.
Every biochip type is finding an attractive niche in diagnostics, including microarrays (cancer), LOACs (point of care [POC]), and next-generation sequencing (NGS; prenatal, cancer, Mendelian disorders, infectious diseases, and newborn screening). DNA microarrays are being influenced by NGS applications, and protein microarrays continue to progress. LOACs are becoming more important both in POC diagnostics and in drug discovery and development. The segment of the global biochip market comprised of the drug discovery and development industry should increase from nearly $1.3 billion in 2015 to $2.1 billion in 2020, as the result of a five-year compound annual growth rate (CAGR) of 11.2%.
GLOBAL MARKET TRENDS FOR BIOCHIP PRODUCTS BY END USE, 2014-2020 ($ MILLIONS)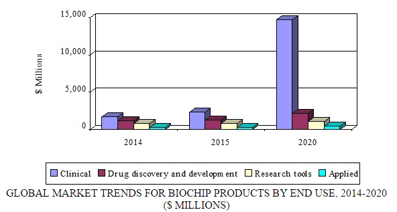 BCC Research reveals in a new study that the increasing demand for accurate, affordable, and automated diagnostics is driving a market that is anticipated to achieve impressive growth during the next five years. Overall, the global market for biochip products is projected to grow from $4.7 billion in 2015 to $18.4 billion in 2020, reflecting a five-year CAGR of 31.6%. The biochips market is anticipated to undergo a shift from R&D tools to clinical applications during the forecast period. As a result, the clinical segment should grow from $2.3 billion in 2015 to $14.7 billion in 2020, demonstrating a five-year CAGR of 44.5%.
A POC DEVICE THE SIZE OF A SMARTPHONE CAN DIAGNOSE CANCER IN 20 MINUTES
LOAC technologies integrate many of the life science laboratory functions onto small substrates. These biochips allow for rapid, accurate genetic and proteomic analysis, while greatly reducing the amount of sample required. The LOAC formats that are now emerging from advances in microfluidics, including more integrated and automated devices, permit significant progress in biological research, drug discovery and development, and POC diagnostics.
One new DNA analyzer features built-in cell phone technology. QuantuMDx says its handheld lab, called Q-POC, can accurately diagnose everything from cancers to infectious diseases in a matter of minutes. Currently in the alpha testing stage, the company hopes to get the product into the lab coats of doctors by early 2018. Right now, the Q-POC prototype can perform a highly sensitive tuberculosis test from a sample to results in 15–20 minutes. QuantuMDx hopes to start manufacturing toward the end of this year. (See recent coverage in The Guardian.)
While the Q-POC handheld device can be used by doctors or lab technicians, its real breakthrough application would be getting it into the hands of frontline health workers. Subject to regulatory approval by the World Health Organization, QuantuMDx hopes to initially launch Q-POC in South Africa before expanding to other markets across the continent. Q-POC will initially be used to detect tuberculosis, with tests for other diseases added later. The device allows test results to be geo-stamped and shared in real time, potentially allowing it to be used for continuous monitoring of disease and antimicrobial resistance.
QuantuMDx anticipates that each test should cost no more than $4.30, an attractive proposition for the health ministries that comprise its primary market in the developing world. The company's initial target price for the device is approximately $1,437, but it believes this can be reduced to roughly one-third of that amount within a few years.
The Q-POC handheld apparatus is designed to read biological samples submitted via a cartridge the size of a credit card. According to a recent report released by BCC Research, the total global market for portable medical equipment is set to hit $65.7 billion next year, up from $54.2 billion at present. Demand for miniaturized devices for POC diagnostics is cited as a driving factor in the market's rapid growth.
GLOBAL MARKET FOR PORTABLE MEDICAL EQUIPMENT PRODUCTS FOR DIAGNOSTICS AND TESTING BY TYPE, 2013-2020 ($ MILLIONS)
NGS is a high-growth market for LOAC, because sequencing protocols rely heavily on micro- and nanoscale devices for their operation. Microfluidics and LOAC technologies are key enabling technologies for sample preparation, DNA amplification, and sequencing in NGS systems. NGS-based tests are particularly well suited for cancer diagnostics, because they can examine specific genes, targeted regions of the genome, whole exomes, or whole genomes.
"NGS testing for these applications is forecast to grow rapidly as the connection between specific genetic mutations and targeted cancer treatment is made for more cancer subtypes. Also, the ongoing reduction in NGS costs will enable more clinical applications for this technology, which will contribute to a high growth rate for these products during the next five years," says BCC Research analyst Jon Evans.
Global Biochip Markets: Microarrays and Lab-on-a-Chip analyzes the biochip markets by type (DNA microarray, protein microarray, emerging microarray, and LOAC); by function (gene expression, genotyping, microRNA, epigenetic, and sequence capture); and by end user (research and development tools, drug discovery and development, diagnostics, sequencing, and applied). Analyses of global market drivers and trends, with data from 2015 and projections of CAGRs through 2020, are provided.