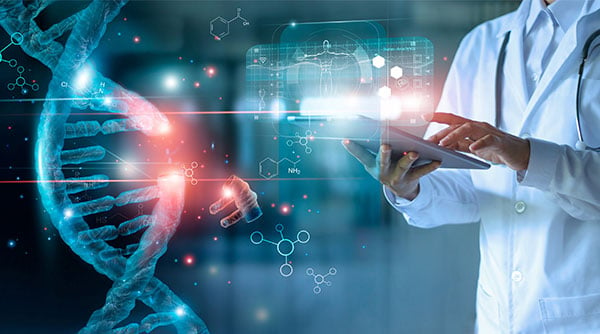 As the pandemic stubbornly continues to challenge us, biotechnology has nonetheless made enormous strides. DNA sequencing costs have plummeted, while genetic engineering power has exploded. The very race for vaccines has led to new technologies in discovery, screening, and delivery previously undreamt of.
As Director of Content at BCC Research, I've recently created a Building Better Health with Synthetic Biology eBook, which explores how companies are focusing on enhancing biomedical research, as well as the advancement of superior technologies to provide better quality treatments and therapies. An industry whose future has been dramatically impacted by the pandemic, biotechnology is emerging with new products and channels to help cultivate a healthier society.
You can download your copy for free here.
Insights from the Experts
"The global market for biomarkers is expected to grow at a CAGR of over 15% over the next 5 years. With the increase in cancer incidences and infectious diseases outside of the U.S. and Europe, Asia-Pacific is likely the fastest growing regional market.
We see a growing awareness of personalized therapeutics and increasing research activities, and government funding in molecular testing in several APAC countries. Biomarker-based clinical trials accelerate patient enrollment. In addition, the overall cost of conducting such trials is lower in countries like China and India. Such advantages are expected to drive faster adoption of biomarker-driven clinical trials." – Anjali Pradhan, Vice President of Mission Bio
What BCC Foresees
The global market for drug discovery technologies was valued at $65.3 billion in 2019. The market is expected to grow at a compound annual growth rate (CAGR) of 9.6% to reach $110.4 billion by 2025. The drug discovery industry witnessed growth in the past several years owing to progress in biochemical, translational, and molecular studies in biomedical research. These technologies are commercially employed in the development of new and efficient drug candidates. The booming healthcare sector and increased government funding have aided notable growth in this market. The delineation of mechanistic details and the underlying mechanism of drug-target interaction have paved the way for more accurate and effective therapies.
This unprecedented time has, in many ways, accelerated the advancements in healthcare, and the future of how we approach it. The once-clear lines between gene therapy and synthetic biology are blurring, and indeed the latter may be a misnomer after all—it is just intelligent biology.
Gain more insight into each market, and hear from industry experts, when you download our Building Better Health with Synthetic Biology eBook now.