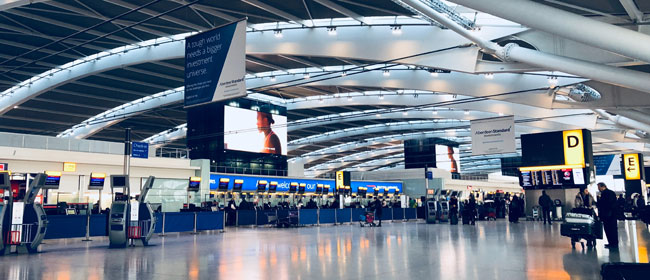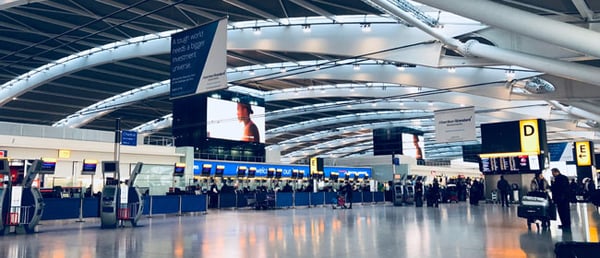 Traveling for the holidays, you may have wished for a smoother, more efficient airport security process – one with shorter lines and fewer checkpoints. Thankfully, multiple companies are developing security devices powered by artificial intelligence (AI) in order to reduce time, increase effectivity and drive the future of security devices at large.
Recently, Denver International Airport adopted the use of Rohde and Schwarz's new rapid body scanner during TSA screening, as Wired reported. Fueled by AI, the scanner allows fliers to stand between two plastic walls, approximately four feet apart. Then, with no moving parts, the scanner is able to detect suspicious shapes and objects in less than a second.
This technological advancement in the field of airport security is noteworthy, as individuals with limited mobility are able to make their way through the security process with ease. The process is also quicker than traditional airport security measures, resulting in shorter lines.
Using millimeter-wave technology, the scanner is part of a new era of airport security – driven by AI and the need for speed. Millimeter waves are just below visible light on the electromagnetic spectrum, and they provide the imaging benefits of X-rays without the harmful radiation. Artificial intelligence takes the scanning process a step further by interpreting any obstructions, determining whether the object is harmful or benign.
Similarly, at Oakland International Airport in California, Evolv Technology installed millimeter-wave scanners that scan airport employees as they walk from "land side" to "air side." Typically, these scanners are able to capture an image in a mere fracture of a second. The system also utilizes facial recognition in order to detect people on a watch list.
"With today's threat landscape, the security perimeter has expanded beyond traditional checkpoints," said Mike Ellenbogen, CEO of Evolv Technology and a 20-year veteran in aviation security. "Evolv Edge's flexibility and portability provides Oakland International Airport with an added layer of security when it comes to employee screening."
AI in Airport Security Technology Expected to Reach 281.8 Billion by 2023
In a new report, "Global Markets for Technologies in Airport Security," BCC Research analyzes the global airport security technologies market with a focus on surveillance, screening, cyber security, access control, perimeter security and others technologies.
"Currently, artificial intelligence (AI) is integrated with airport security systems such as screening, perimeter security and surveillance since these will enable the airport authorities to improve the safety and security of the passengers," report author Aneesh Kumar says in the report.
The increasing adoption of techniques such as machine learning and deep learning in sterile areas is increasing the demand for the AI. AI identifies patterns in the data through behavior recognition of passengers at security systems in airports.
As outlined in a recent report, the global market of AI technologies in airport security is expected to reach $281.8 million by the end of 2023 at a five-year CAGR of 9.7%.
According to BCC Research, the global market for airport security was valued at $9.9 billion in 2018 and is expected to reach $15.1 billion by 2023 at a compound annual growth rate (CAGR) of 8.9% during the forecast period.
For more information about the future market for airport security technologies, download a free overview of Kumar's recent report.