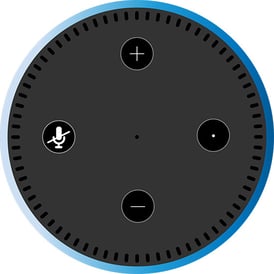 What will AI mean for marketers and businessowners?

What AI marketing tools and solutions do marketers and businessowners need to know about so that they can continue to promote their brand and generate revenue?

We answer those questions in today's blog, adapted from our recent webinar, "AI and Voice-based Search: Are you ready?" featuring AI, marketing expert and author William Ammerman.

According to Ammerman, "There is a lot of evidence to suggest that there are things we should be doing right now to prepare for an AI driven marketing future."

The Rise of Voice Commerce
The easiest way to understand Voice Commerce is to think about Voice Assistants, mainly Siri, Google Assistant, Cortana and Alexa.
Ammerman predicts that Voice Commerce is one of the fastest growing segments in the world, potentially reaching $80 billion worldwide by 2023. "We're talking about an industry that's going to zero to $80 billion in five years…you're talking about a very rapid expansion," he says.
According to Juniper Research, 8 billion digital voice assistants will be in use by 2023, up from about 2.5 billion at the end of 2018.
Clearly, voice represents a new challenge and a huge opportunity for online advertisers and for businesses in particular. As marketers and businessowners, you will be faced with challenges about how to adopt voice search technology to generate revenue, as consumers are going to be increasingly looking to interact with you and your business using voice.
Ammerman says, "If you are not ready for that, they are going to work with competitors of yours who are. Preparing your business for the era of the voice user interface is mandatory."
The interface in the Voice Assistant is the leading edge of AI at the world's most valuable brands:
Google Assistant is pervasive across Google devices.
Apple Siri is on Apple devices, varying from Apple TV to phones.
Microsoft Cortana is the pervasive voice assistant on Microsoft.
Alexa is the voice of smart speakers from Amazon.
These brands occupy the AI and voice-based search space for a reason. Their brand growth is going to continue into the future. They invested in voice software, which has pushed them rapidly into becoming dominant players, both to strengthen their brand and because they are forward looking technology brands themselves.

Voice Search Statistics
Check out these stats about voice search, this very powerful AI marketing tool:
90 million U.S. adults are using Voice Assistants on smartphones per month. Half as many are using Voice Assistants on smart speakers.
The number of Apple Siri users is 44%, Google Assistant is second most used and Amazon Alexa is third.
57.8 million U.S. adults own a smart speaker and that number is growing exponentially.
Driving is the most common use case that people report using voice. Relaxing at home is the second most common.
How to Use Voice as an AI Marketing Tool
According to Gartner, if you make the commitment to invest in and develop Voice-Based Search for your business, you're going to be 30% ahead of where you would be otherwise.

Ammerman encourages marketers and business owners to consider the following questions:
What device are my customers talking to? If you're running a health care facility or gym, your consumers might be talking into their smart watch or their wearable technology. Answers to that question will vary from company to company, but Ammerman recommends to first think about how your consumers are interacting with devices.
What voice assistants are available on those devices? Many of these Voice Assistants are available on multiple devices and many devices are capable of supporting multiple Voice Assistants. Businesses are not limited to one Voice Assistant per device, which is important to remember.
How does your business interact with the Voice Assistant? This question refers to the connection between your business and the Voice Assistant. For example, you may want to develop an interface that allows your consumers to use Alexa more efficiently to work with your business.
He also shares the following tips for marketers and businessowners to harness this AI marketing tool effectively:
Structure your data to align with how voice search works. Voice flattens search. People ask common questions to Voice Assistants, like "who?" "how?" "when?" or "where?" You need to be structure data in the form of questions so that search engines can actually identify the answers easily…and pull your company's answer first.
Harness the power of "near me." A very frequent application of voice is to find an address location, as many consumers are in their cars driving and looking for a place "near me." You need to make sure that your business listings, particularly your Google Business and your bank placing listings are up to date, offer quality information about your services and products and that you are found easily.
Consider other apps that users may search for your products and services. Ensure that your business is listed in services like Yelp, Angie's List and Thumbtack that are becoming increasingly voice enabled.
Know how search algorithms work. Alexa's algorithm was deconstructed by Forbes, and the author found that the Alexa makes product recommendations based on whether the product is an Amazon Choice. If it isn't an Amazon Choice, then Alexa looks for products that are available for Prime delivery. If it is neither of those, Alexa looks for products that are from the user's purchase history.
Try to find your business using voice. Try to learn about how your products are being sold using voice. Can you buy your products today using voice? Share the results with your team and brainstorm opportunities for improvement.
Learn More About AI
To learn more about the global artificial intelligence market—trends, opportunities, major players, products and more—download a complimentary chapter of our recent market research report, "Artificial Intelligence: Applications and Global Markets."