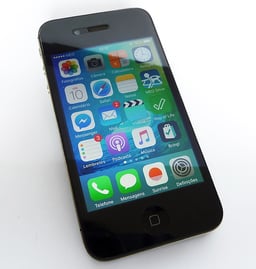 Organic light-emitting diode (OLED) technology represents an enticing evolution from liquid crystal display (LCD). For consumer devices like smartphones that demand a flexible display, OLED possibilities are being researched by most of the leading display makers, who have committed to building or have already built dedicated production lines for that purpose.
So, it comes with little surprise that tech giant Apple publicly tipped its interest in flexible displays when earlier this month, the U.S. Patent and Trademark Office published a patent application filed by Apple in 2016. The patent explores combining OLED display technology with quantum dots to produce "high efficiency displays" that are brighter, more colorful, but consume less energy. Energy efficiency has proved an sizeable obstacle related to using mobile devices outdoors, not to mention transitioning to high dynamic range imaging.
AppleInsider notes that in achieving the lofty patent aims, "future Apple devices could merge the enhanced power efficiency of quantum dot LED and speed of response of OLED screens in one unit, offering the best of both worlds in terms of battery life and image quality."
Quantum dot (QD) technology has achieved a sort of maturity for its use in LCD display panels. Manufacturers such as Sony and Samsung use nano-sized particles to expand the color gamut of LCD TV panels. But, quantum dots also can be combined with other types of displays.
As AppleInsider explains, Apple's application of quantum dot seems a true QD, "different from the current commercial implementation of the screen. As with OLED, light is emitted on demand in true QD and the complete technology is seen as the successor to OLED at some point in the future."
Quantum LED is being used to improve the backlight, but it's not being used on the pixel level. Not yet anyway. "True QD swaps the photoluminescent quantum dots behind a conventional LED or the organic element in an OLED screen for electroluminescent nanoparticles, which emit the light themselves," writes Mike Wuerthele.
As for when we can expect QD OLED displays, Apple's patent reveals that the company is hardly at the fabrication stage yet. The technology poses sizeable challenges that make it unclear Apple's timeline for True QD display development.
Meanwhile, a recent BCC Research report posits that OLEDs will be the principal display technology for flexible displays. At least, for now, Apple's dream of a QD-OLED hybrid remains in the clouds of possibility. As for OLEDs, they are organic in the choice of substrates and open doors for full flexibility across all display layers. The movement toward flexible OLEDs has been instrumental in the development of technologies that can bring lasting solutions to backplane issues.
Flexible thin-film transistors (TFTs) are being actively investigated and worked upon by several companies, and the credit for that development must go to the early successes encountered in the development of flexible OLEDs. The dominance of flexible OLEDs is not pervasive across end applications. Again, not yet, anyway.
That same BCC Research report notes that in January 2017, the Wall Street Journal reported that Apple was considering the usage of bendable plastic panels for future iPhone generations. Japan Display was supposedly the supplier of these panels.
The share of the flexible OLED display technology will rise from 66.3% in 2017 to 69.8% in 2022, BCC Research reports. Overall, the global market for flexible displays should reach $3.1 billion in 2017 and $12.6 billion by 2022, growing at a compound annual growth rate (CAGR) of 32.4% from 2017 to 2022.