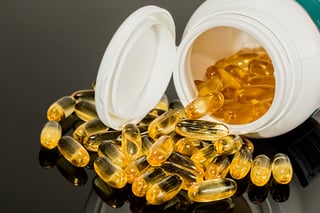 With commercial applications in many fields, the total amino acid market in the United States is projected to approach $2.5 billion by 2022. Amino acids have important roles in food for human consumption, animal feed, cosmetics, medicines, biotechnology and some industrial applications. In dollar terms, the most important current applications are in animal feed and human food. The threeprimary categories of commercial amino acids in the United States—animal feeds, flavorants and specialty uses—comprise a market in excess of $1.9 billion. Accounting for 18% of global consumption, the U.S. market is forecast to expand at a compound annual growth rate of 4.8% from 2017 to 2022, according to a new study by BCC Research.
The greatest increase in the use of amino acids will not be for a single amino acid, but for use in combination with other amino acids. These combinations hold great promise in fighting numerous diseases affecting every major system in the body, including the human immunodeficiency virus (HIV) and many forms of cancer. Amino acids are sold as standalone health supplements in many nutrition stores, but combinations are reputed to have additional benefits that are achieved through proper balancing. Considerable research is focused on the benefits and effects of amino acid balancing, as well as the peptides, enzymes and hormones that amino acid combinations produce.
The medical sector is opening up to amino acid researchers in biochemistry and medicine. It is charting the subtle interactions of life's building blocks, as well as the technical ability and know-how present for building mutant amino acids that can serve diagnostically and therapeutically for numerous human ailments. Some scientists foresee the day when amino acids will serve as nanofactories able to construct newer and more complex chains, many containing newly created amino acids. Scientists are now able to modify the smallest chains and rings on amino acids. The ground floor is just being built through an understanding of the mechanisms and functions of amino acids.
Two New Rungs Added to Ladder of Life
Last week, Floyd Romesberg and colleagues published a paper in Nature discussing how a semi-synthetic organism can translate DNA with two additional bases (X and Y) into novel proteins. Romesberg is scientific founder of the synthetic biology start-up, Synthorx. Laura Shawver, its newly named CEO, president, and director, is thinking about taking the company's first programs into clinical development, as well as seeking partnerships where Synthorx can help tweak therapeutics using new protein candidates the company calls "Synthorins." The company is currently focused on oncology and autoimmune diseases.
The additional base pair X and Y can, in principle, encode for an extra 152 novel amino acids that can make proteins with unique pharmacological properties. That is a big leap from the current 20 amino acids. The cytokine interleukin-2 is the subject of Synthorx' lead program. The company's researchers have been teasing out where exactly the non-natural amino acids should—and should not—go. In the case of interleukin-2, placing non-natural amino acids in specific locations can tune up efficacy and tune down toxicity. "There are only a few places that actually tune the pharmacology the way we need it to...so this has been a meticulous task that they have undertaken," Shawver explained to Endpoints News.
Highlights of BCC Research's Study
Demand will remain steady for the amino acids lysine and methionine, which are used to enhance the nutritional value of protein found in animal feeds.
Specialty uses—such as feeding solutions, chemical intermediates for drugs and other chemicals, pharmaceutical and biotechnology research, and medical applications—will expand.
Considerable research is focused on the effects of amino acid combinations, as well as the peptides, enzymes, and hormones that are produced by them.
U.S. Amino Acids Market, by Application, 2016–2022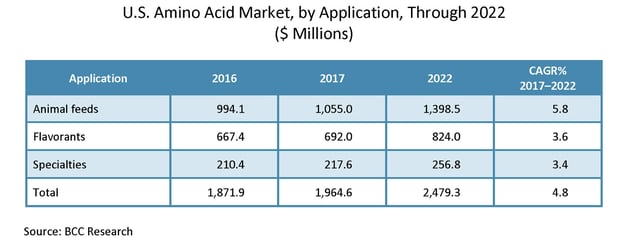 "Animal feed supplements represent the largest market category for amino acids, and rapid increases will occur as new separation and purification techniques are developed," said Robert G. Hunter, BCC Research senior editor, healthcare. "Livestock populations remain near record-high levels, due to increasing exports, a growing population and the desire for leaner meats."
Flavorants Comprise Second-Largest Market Segment
Globally, amino acids used in food flavoring accounted for roughly $3.8 billion in 2017. Projected growth is tied to the production and use of the artificial sweetener aspartame (a derivative of aspartic acid and phenylalanine). Aspartic acid will also be used as an additive to detergents. Isoleucine may be increasingly used in the animal feed industry if production costs decrease.
Other uses for amino acids include pharmaceuticals, dietary supplements, cosmetics, and research. The pharmaceutical industry represents trillions of dollars every year. Research funds are currently limited in this market, and some have been earmarked for amino acid research. Amino acid impact studies are being conducted regarding Alzheimer's disease, autism, Parkinson's disease, hyperactivity, male impotence and heart disease (e.g., cholesterol). The diet market is another profitable industry that is looking at amino acids and their effect on weight loss.
For more research and market forecasts, download the report overview for Commercial Amino Acids (BIO007L).