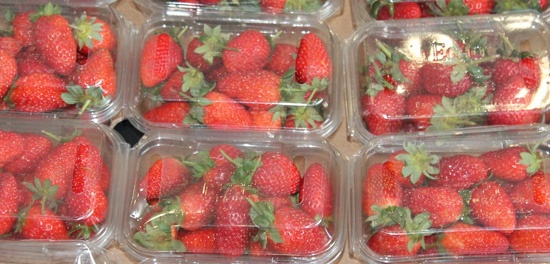 Brands and retailers want to engage our senses, particularly with touch. Tactile techniques invite the consumer to interact with a product, delivering an experience that can stimulate demand for that product. The growing trend for tactile solutions has crossed into the food and beverage industry in, shall we say, a fresh manner?
A start-up company has developed a food expiry label that tells consumers if a food product has outlasted its freshness date—simply by touch. Mimica Touch, developed with the visually impaired in mind, offers the potential to reduce food waste and improve food safety without the need for a reading device.
Learn about the Tactile and Dimensional Printing Member-Exclusive Webinar on February 6 at 2 p.m. EST
This bio-responsive indicator, as London-based Mimica Lab describes it, is a scaled-down package consisting of a plastic tray and a lidding film with gelatin inside. The gelatin reacts to changes in temperature as packaged food does because of its molecular composition. At the packaging stage of a product, the label is affixed and originally smooth to the touch--on packaging, the label decays at the same rate as the food item. The bumpier the label becomes, the more the food has decayed.
The company says the gel is calibrated for each product line by putting shelf life testing data from the lab into its mathematical model to determine the optimum formulation to use. Because the patent-pending expiry label is made from a waste byproduct, it's cheaper than previous technologies, Mimica says. Manufacturers can apply the label using existing packaging equipment, adding to costs savings. The company calls their food expiry label "the most logical next step from the current printed date system." A product launch is slated for the first quarter of 2018.
BCC Research expects the global tactile printing market to reach almost $1.2 billion and $1.9 billion by 2017 and 2022, respectively, equivalent to a compound annual growth rate (CAGR) of 10.3%. In its November report, Tactile and Dimensional Printing: Global Markets to 2022.
Packaging and label printing will comprise the majority of the market and will grow at an accelerated rate in comparison with security and accessibility applications, according to the report. The comprehensive market analysis considers commercial- and industrial-scale tactile printing equipment relevant to applications that include the printing of packages, labels, currency, security documents and accessibility for the blind and visually impaired, including both braille and tactile graphics.
To learn more about this vibrant market, download the free report overview. Join the Member-exclusive webinar "Tactile and Dimensional Printing: Global Markets to 2022" with BCC Research analyst Robert Eckard at 2 p.m. EST.