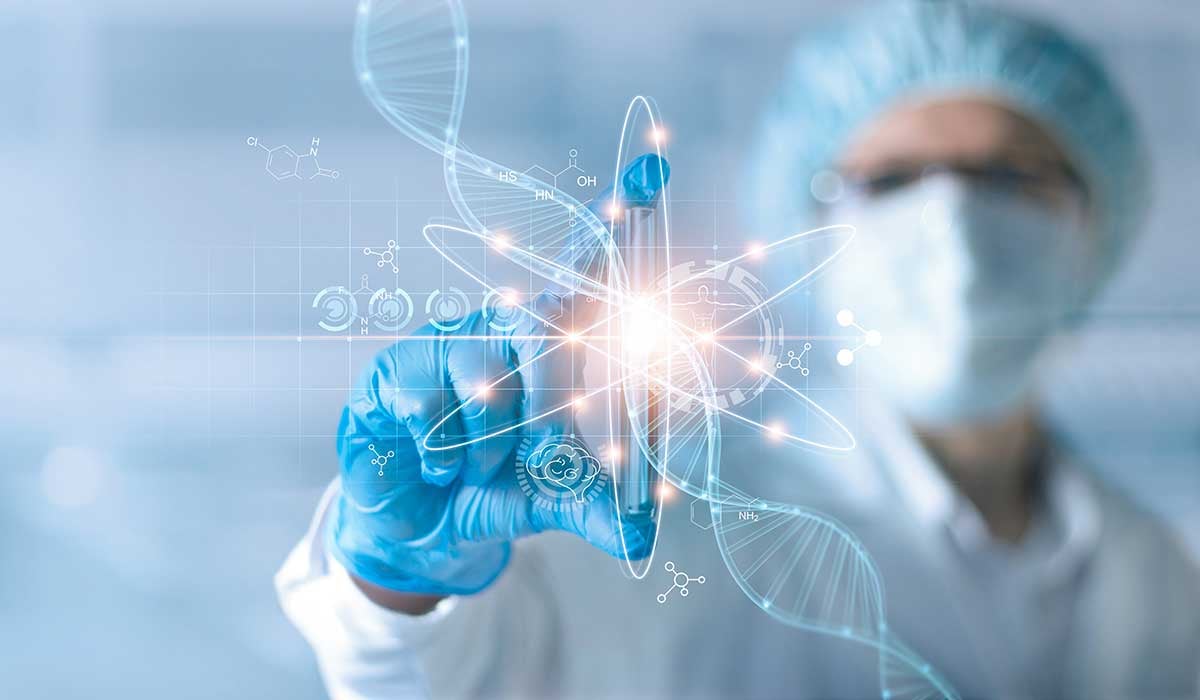 Biotechnology is fundamental to the continued growth and advancement of modern life. With cancer cases rising, the number of genetically occurring diseases increasing, and food production chains threatened by pests and disease, creating biologically engineered solutions to these issues is more crucial than ever.
Although the value of biotech is indisputable, the field has not been without its controversy. Hot-button topics like gene editing have saturated headlines, with concerns raised over the ethics of manipulating human DNA – particularly for cosmetic gains. But this represents only a small section of biotechnology.
Biotechnology for the advancement of medicine is by far the biggest facet of this vast field. Recently, a number of developments have accelerated growth across the market. Some significant examples include CRISPR technology, biosensors and bioprinting technologies, cancer stem cell research, and of course, the use of mRNA vaccines to combat Covid-19.
Simply put: the industry is thriving. As biotechnology unearths more ways to improve human life, more investment is funnelled into the market. Greater investment generates more opportunities for research and development (R&D), which in turn leads to a higher incidence of scientific breakthroughs. Thus, a mutually advantageous market dynamic is created.
Defining Biotechnology
Getting a sense of precisely what biotechnology is will help create a complete picture of the role it plays within society. Biotechnology is an industry that fuses natural sciences and engineering technologies for the application of live organisms and cells in products and services. This practice, though relatively modern in an industrial sense, stretches all the way back to the domestication of animals and cultivation of plants. Since the emergence of agricultural communities 10,000 years ago, crops began being cultivated for specific traits. Plants that produced high-volume yields were selectively bred over other varieties. This can be considered an early type of biotechnology.
In the contemporary era, biotechnology has four major industrial applications. While still serving agricultural purposes in crop production, it also services the healthcare and medical industry, non-food industrial purposes, and environmental applications.
Key definition: Biotechnology is the industrial synthesis of biology and technology to make products that improve lives.
High Costs in the Industry
Although the market is booming, elevated costs are proving to be an ongoing challenge for biotech companies. Development fees are often the most critical obstacle for manufacturers to overcome. While a cholesterol drug may cost $5 per day (equating to $1,825 per year), a biotech drug may cost as much as $20,000 or more per year.
In 2019, gene therapy and cell biology technologies were developed – a huge breakthrough for the industry – but astronomical costs created a significant barrier. Zolgensma, a viral vector-based gene therapy for the treatment of spinal muscular atrophy, ended up costing around $5 million. This improbable sum epitomizes the ongoing problem for biotechnology.
Going forward, balancing the cost of innovation will be a key task for manufacturers. Getting the pricing right, and the costs involved with launching products, are also significant challenges. Progressing drugs from innovation to clinical trials to market launch can take years. Investing in biotechnology can be a risky and disappointing business.
Impact of Covid-19
The Covid-19 pandemic had a devastating impact on almost all areas of life. Societies across the world were upended, global wellbeing took a nose-dive, and industries suffered extraordinary financial losses. One silver lining from this whirlwind few years is the acceleration of biotechnology. Unlike other industries, biotech witnessed enormous growth throughout the pandemic. The search for diagnostic treatment methods for Covid-19 forced governments, the media, and the public alike to focus on science and medicine. The global success of mRNA vaccines from companies like Pfizer and BioNTech strengthened the idea that biotech acquisitions and partnerships are solid investments.
Companies are now investing large amounts, enabling the development of manufacturing units with advanced, state of the art resources and expanded facilities. The use of artificial intelligence (AI) and machine learning is increasingly having an impact on biotechnology, thanks in part to market growth since the pandemic. At the same time, genetic sequencing technology is advancing at a great pace, especially across the healthcare sector in the diagnosis of various cancers and strains of Coronavirus.
Key Markets
Being such a broad discipline, biotechnology contains numerous subsectors and branches. BCC Research has a range of reports on biotechnology markets within the healthcare sector, from DNA sequencing to mRNA therapeutics, and liquid biopsy to cell therapy. With science and healthcare representing the highest growing biotech market, breaking down this sector into disciplines is useful for understanding the industry. Below is a small summary of some key emerging markets within medical biotech.
These have emerged as a rapidly growing field with multibillion-dollar business potential within the biotherapeutics market. Recent commercial success has shown its potential to transform the biopharma industry, the same way first-generation biotech companies (such as Amgen, Biogen and Genentech) did in the 1980s. The market is expected to reach $101.3 billion by 2026, signalling the vast scope of potential within this field.
Next-generation Sequencing
Next-generation sequencing is now an essential technology in clinical diagnostics. In the next five years, the market is expected to extend rapidly and introduce paradigm shifts in cancer detection and treatment. In real terms, the global market is forecast to grow at a compound annual growth rate (CAGR) of 31.4% through 2026, reaching as much as $22.9 billion.
Cancer stem cells (CSCs) are a rare form of immortal cells that occur within a tumor, and avenues for R&D in treating these cells is expanding rapidly. A rise in the incidence and mortality rate of cancer worldwide is compelling further research within the field, fuelling significant market growth.
Three Key Factors Driving Growth
There are a vast array of factors propelling growth across the biotech field, though each market contains its own set of specific drivers and unique conditions. However, general trends can be noted across the entire sector. Understanding these trends helps paint a complete market picture.
As previously mentioned, Covid-19 has been a huge driving force in the biotechnology field. Vast investments were ploughed into the field in the race to create a suitable vaccine. The knock-on effect is that the importance of biotechnology in combatting viruses and other diseases has been bolstered, driving growth in the industry
Scientists are looking more towards personalised treatments to improve outcomes for patients. Personalised and precision medicine focuses on treatments that are tailored to an individual's unique genetic makeup and is generating significant attention in recent years.
Increase in the incidence of diseases and illnesses are causing overall growth in the biotechnology market. According to the European Federation of Pharmaceutical Industries and Associations, the number of people diagnosed with cancer in Europe has risen by 50% in the past twenty years. Despite this, more people are surviving diagnoses than ever before, thanks primarily to research within the biotech field.
Three Key Factors Inhibiting Growth
Despite an overwhelmingly positive market picture, there are factors that could stifle the landscape in the coming years. 3 key barriers have been identified by BCC Research.
Certain areas of biotechnology, notably genetic engineering, are subject to strict risk assessments and regulations. This creates a sluggish market atmosphere as new companies and drugs struggle to receive approval from appropriate authorities.
As mentioned earlier in the review, high costs are an ongoing issue across the entire biotechnology sector. Advanced technologies and the need for funding creates financial barriers for researchers and developers, which limits the availability of certain treatments.
Many of the conversations on the ethics of gene editing have been left open-ended. A re-emergence of these discussions could inhibit growth, particularly at a regional level, as countries may introduce technology-specific bans.
The Bottomline…
Although biotechnology is a progressive and crucial industry, it faces barriers that could inhibit growth – like almost every other industry out there. But with key advancements for the benefit of humanity resting in the hands of biotech, a continued expansion of the market is necessary. The ongoing issue of costs will need to be addressed – whether by manufacturers, industry bodies, or governmental authorities.
In the meantime, gaining further insight into this vast and profitable market can be achieved with access to the right resources. BCC Research has a range of reports based on subsectors of the biotech industry – as well as an overall research review.
Most information from this deep dive was pulled from the BCC Research Biotechnology Research Review. The review itself contains highlights and summaries from the following reports on the biotech market:
Exosome Diagnostics and Therapeutics: Global Markets
Bioinformatics: Technologies and Global Markets
Next-generation Sequencing: Emerging Clinical Applications and Global Markets
Life Science Tools and Reagents: Global Markets
Liquid Biopsy Research Tools, Services and Diagnostics: Global Markets
Induced Pluripotent Stem Cells: Global Markets
Global Markets for Research Antibodies
Cell Therapy Biomanufacturing: Global Markets
Complimentary report overviews are available for each of these reports through the above links. We encourage you to obtain and benefit from the full market research reports that are.
Having a membership at the BCC Research Library gives you comprehensive access to all these reports, plus any other relevant reports in your field. Please do not hesitate to get in touch, and we can talk through the benefits of this access.