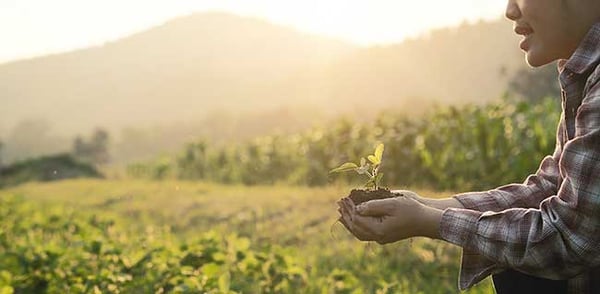 Sustainability has become quite the buzzword. But like most buzzwords, it stems from a truth. And in this case, that truth is a deep core value, a call for individuals and companies to make a shift for a goal bigger than themselves. And there are companies that are certainly heeding that call.
What we absolutely love about this particular topic is all the different ways organizations tackling the tricky question: how do we become a more sustainable company and reap the associated financial benefits?
Below are just a few sustainable endeavors from some extremely awesome companies in a variety of industries.

1. IKEA—Circular Economy & Their Secondhand Store
IKEA is a well-known furniture store, a staple that is both reliable and known for their meatballs just as much as their home assembly pieces. But they're reigniting conversation with their new strategic partnership with the Ellen MacArthur Foundation. Focused on shifting to a closed-loop home furnishing design, this partnership will allow IKEA to adopt a circular economic model by 2030, enabling consumers to live a more sustainable life at home.
The push for this shift isn't coming out of the blue. According to IKEA Sweden's Sustainability Director, if Ikea continues on their current trajectory, the consumer demand would result in double the wood used which in turn would result in an increase of carbon emissions from today's 30 million tons to 50-60 million tons. Evidently, this is problematic for a variety of reasons. It's also the statistic that prompted action.
IKEA's biggest showcase of their sustainability mission is opening their first secondhand store in Sweden. It will sell refurbished furniture and home furnishings. In 2019, IKEA quietly launched their first pilot project which allowed customers to rent furniture as part of their circular model.
For more insight, explore our report, Sustainability Sense or Cents: How do Companies Incorporate Sustainability Decisions in their Businesses or white paper, Innovation Spotlight: Hewlett Packard, Sustainability in Business.

2. Wave Dragon—Sustainability Energy
Wave Dragon is a large-scale technology developed in Wales that generates electricity from ocean waves. This ties right in with the Welsh Government's goal to produce all of Wales's energy through renewable sources. Aside this technology being an example for other countries, it would also reduce carbon emissions in Wales by at least 80% by 2050. It's in this space that Wave Dragon can really shine.
A Wave Dragon prototype was launched in 2003, making it the world's first offshore grid-connected wave energy device. The initial test did well. Very well. And now, they are one step closer to an official launch.
For more insight, explore our report, Renewable Energy: Technologies and Global Markets or white paper, Future Of Ocean Power.

3. Impossible Milk—Sustainable Food Sources
Impossible Foods is well-known both by climate-conscious eaters, and those who've decided to really put their claim to the test and see if an Impossible Burger mimics the real thing (spoiler: it does). But Impossible foods isn't focused solely on recreating burgers; their ambition is taking them further—much further.
Impossible Foods' mission is straightforward. As the company's website states, "We're on a mission to save meat. And Earth." Simple. Just highly complicated in its execution. And despite the word 'meat' in the mission statement, developing a replaceable meat protein is not the only way they can accomplish this aspiration.
Enter Impossible Milk.
Why milk? Well, the Food and Agriculture Organization of the United Nations stated that global greenhouse gas emissions caused by dairy cows increased 18 percent between 2005 and 2015. Something has to give. But the solution certainly isn't telling people to consume less milk, that has proven ineffective. Instead, Impossible Foods has decided to approach it in an entirely different way. Instead of taking something away, they're simply looking to replace it. It would be a plant-based milk that not only tastes like milk, but froths like it, cooks like it and even produces cheese.
While the product isn't yet ready for grocery store shelves, their five-person milk team has been working on what they call "functional" milk for two years. And just to have it in the back of your mind, they also have their eye on plant-based steak, bacon and fish.
For more insight, explore our report, Plant-Based Meat: Global Markets or white paper, The Future Of Plant-Based Protein.

4. Solidia—Sustainable Concrete
The words "sustainability" and "concrete" may not seem like they belong in the same sentence, but we assure you they do. More than that, Solidia assures us, and the whole concrete and cement industry, that sustainability is the way to go. And they have the technology, data and results to prove it.
Did you know that every ton of cement produced releases a ton of CO2 into the atmosphere? This effectively makes the concrete industry "responsible for 5-7% of total global carbon emissions and up to half of industrial energy use in emerging nations. On top of that, 3 trillion liters of fresh water are used for concrete production every year," according to Solidia.
Solidia is changing that. Spearheading a shift in the industry, they are disrupting the market without being disruptive. They do this by selling their technology to companies, their very own concrete formula, if you will. And between that and the implementation of AI in their manufacturing process, they have hard data that proves they can create a sustainable solution to an established problem. Saving 100% of fresh water and reducing the CO2 emissions, concrete may not be a very exciting field, but they are doing very exciting things for the environment.
For more insight, explore our report Smart Concrete: Technology Overview or white paper, The Future of Translucent Concrete.

5. Cargill—Regenerative Agriculture
We would be remiss to talk about sustainability without touching on agriculture. A company making great strides in this field is Cagill (also one of our members!). They've been working to advance regenerative agriculture practices across, get this, 10 million acres of North American farmland all by 2030. You read that right, 10 million.
So what exactly is this initiative?
The focus is on staple crop rotations. Staple crops include wheat, corn, soybeans and more. Long-term benefits include profitability and resiliency of crops, allowing farmers to thrive while reducing and protecting water resources and mitigating the impact that agriculture has on climate change.
According to Cargill's Sustainability Director For Row Crops, Ryan Sirolli, "agriculture is really an opportunity to implement a sustainable food system because they know they can do so in a safe and responsible way."
To accomplish this goal, Cargill partners with stakeholders to cover the entire supply chain process in order to provide farmers with all the resources needed. This will ensure not only that the crops will be more resilient, but that farmers will have access to everything from training opportunities to data collection. This approach, by securely supporting farmers, is a fantastic way to help the industry transition into a more sustainable model.
For more insight, explore our reports Global Markets for Precision Farming or Global Markets for Agrochemicals.