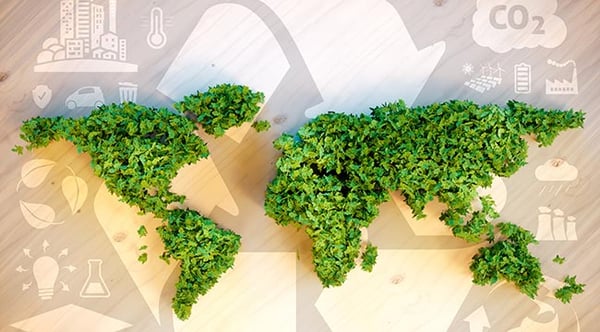 As BCC Research has been covering the Environment and Sustainability industry for 50 years, we like to keep an eye out for new advancements. Here's some industry news we thought you should know.
News In Environment & Sustainability
KFC recently announced its dalliance with creating a new kind of meat: 3D-printed chicken nuggets, aka "meat of the future."
When you think of sustainability and the circular economy, you think of plastic as a problem rather than part of the solution. But plastics recycling is quite crucial.
A more environmentally friendly way of cooling off than using AC? The Cold Tube.
5-Year Market Forecasts
Check out our recently published industry reports in Environment and Sustainability. You can download complimentary overviews of each:
Climate Resilient Cities: Resilient Building Design and Planning
The global market for building design and planning technologies for climate-resilient cities is projected to grow from USD 82.4 billion in 2020 to USD 124.8 billion by 2025, at a compound annual growth rate (CAGR) of 8.7%.
Battery and Other E-waste Recycling
The global market for recycling of batteries and other types of e-waste is projected to grow from USD 31.7 billion in 2020 to USD 61.8 billion by 2024, at 18.2% annually.
The global market for carbide tools was valued at USD 11.9 billion in 2019 and is expected to reach USD 16 billion by 2025, growing 8.5% annually.
Nuclear Plant Operations, Nuclear Fuel, and Nuclear Instrumentation: Global Markets
The global market for nuclear operations, fuel and instrumentation should grow from USD 103 billion in 2020 to USD 118.5 billion by 2025, at 2.8% annually.
As these reports are part of our Environment and Sustainability Collection, we're happy to provide you with a 48-hour trial so you can take a look at all the additional reports.
Just explore our collection and contact info@bccresearch.com for a free trial.
Granular Market Data
If you need something different from our 5-year market forecasts, we can give you benchmarking data that will help you pivot in your business, inform your current projects and more.
What is benchmarking data, exactly?
Think recurring, drilled-down metrics to help you make day-to-day decisions in your company, as opposed to our broader reports that provide 5-year market forecasts.
Here's an example. Maybe you need to know the price of Purell travel-size hand sanitizer in 2019 v. 2020; the number of units sold in Massachusetts in 2019 v. 2020; and the retailers who sold the most units in that timeframe.
Our Benchmarking analysts will find that data, put it into whatever format you prefer, deliver it right to your inbox and update it as often as you like.
Yep, we can get that specific—and even moreso if needed. Think of BCC Benchmarking as a trusted partner who finds and hands you the data you need to run your company, give to your boss, make decisions and more.