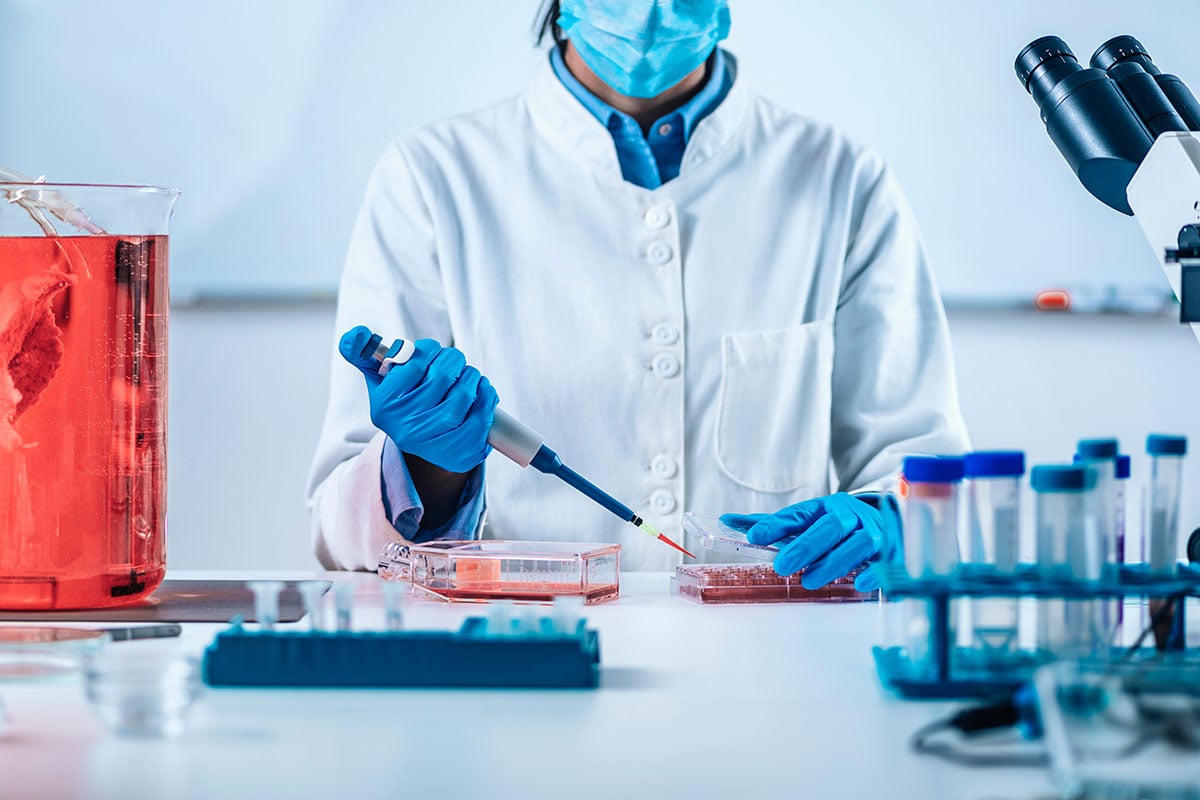 Imagine being able to curate specific, complex collections of cells that directly resemble an individual patient's own tissues? Imagine no more... This technology has already been developed and is gaining steady traction across the market, alongside traditional ways of studying diseases outside of the body. Organoids, 3D cultures and laboratory animals have, and will continue, play a vital role in the way medicine works, as well as how doctors treat us as patients.
Let's discuss terminology
Before we get into the market and its driving force, let's strip it back to the terminology and what it all means.
Organoids are three-dimensional tissue cultures grown from stem cells. They are crafted to replicate much of the complexity of an organ, or to express selected aspects of it like only producing certain types of cells. Organoids enable scientists to study how cells interact with each other and their environment, as well as seeing how diseases affect them and the effect of drugs.
3D Cultures are the key to organoid development. As organoids are 3D culture models, it was the implementation of three dimensional artificially created environments that has allowed the technology to continue to develop. Unlike 2D environments, a 3D cell culture allows cells in vitro to grow in all directions, like how they would in vivo.
Laboratory animals are the most common representation when we think of scientists in a lab, testing drugs and beauty products. However, the use of animals for research purposes dates back as early as the 17th century. Animals, opposed to organoids, offer a complete representation of the complex organs and how they're all connected which has kept animals as a choice for scientists, despite innovations in technology.
The shift from laboratory animals to integrating the use of 3D cultures and organoids is, like most things, down to money. With animal models being much more expensive to use in testing, there is also the risk that a drug being tested on an animal is unsuccessful but could have saved human lives. On the other hand, like we've seen before with thalidomide, a trial can go well with animal models but cause severe side effects in humans. In both these instances, a whole trial is lost costing an obscene amount of money in damages or a potentially lifesaving drug never made it to people who needed it.
3D cell cultures in the age of innovation
Let's start by looking at 3D cell cultures. Without them, the explosive market of organoids wouldn't have come to be.
3D cell cultures provide significantly improved intercellular connections, allowing cells to fully respond to their surroundings. Moreover, the composition of 3D cell cultures can be precisely micro-assembled, and more than one cell type can be grown together, thus enabling the cultures to retain more natural physiological functions.
Factors driving the market include:
An increased awareness of animal rights leading to the development of ways to reduce animal models in testing
Funding into developing 3D cell cultures to perform more efficient research
The rising field of transplantation medicine will utilise 3D cell cultures in providing solutions for organ function restoration in patients.
Organoids…The future of medicine?
There are potentially as many types of organoids as there are different tissues and organs in the body. Organoids can range in size from less than the width of a hair to five millimetres and can be produced to resemble vital organs in the body. This way of culturing tissues will give scientists a detailed view of how organs form and grow, providing them with new insights on human development and disease.
The global organoids market was valued at $1.12 billion in 2021. By product type, the organoids market has been segmented into intestine, liver, stomach, pancreas, lung, kidney, and other organoids. The intestine segment recorded the highest revenue ($262.2 million) in 2021, growing at a CAGR of 22.5%. While the kidney segment recorded $96.6 million revenue in 2021 and is estimated to grow at the highest CAGR of 23.2% during the forecast period. The fast growth rate of the kidney segment is attributed to growing adoption of kidney organoids, which in turn is attributed to their exceptional ability to reproduce human diseases caused by genetic alterations.
During the COVID-19 pandemic, researchers demonstrated the value of human organoids, specifically lung, intestine and kidney organoids, as valuable research platforms in the fight against the virus. The long-term consequences of COVID-19 described as "long-covid" remains a challenge and will certainly boost further adoption and development of organoid models.
During the recent decade, organoids are being widely used in a variety of applications, including disease modeling, pathogenesis, drug discovery and personalized medicine, as well as regenerative medicine. This trend is expected to continue during the forecast period. Moreover, the growing acceptance of the organoid technology for use in a variety of applications, involving genetic mutation, gene assessment and tumor modelling is anticipated to accelerate the overall development of the global organoids market during the forecast period.
Are laboratory animals being replaced by modern technologies?
The short answer is yes, but the long answer is a lot more technical and leaves scientists contemplating the importance of animal testing versus using recent technologies.
Let's get into it.
Laboratory animals are essential to researchers seeking to understand disease progression, genetics or other biological mechanisms of the human body. An important factor driving the market for animal model usage is the persistent need for translation from basic research to commercial applications, alongside safety validation of new chemical compounds or drugs. With a well-established market and long history, as well as long standing research methods that rely on animals, the market will always be on a steady incline.
Although the rise in 3D cultures and organoids offer a simple alternative to using animal models, scientists have agreed that between now and the near future, organoids will be valuable, but only alongside animal testing to further understand what laboratory animals can't.
The bottom line
The global organoids market was valued at $1.1 billion in 2021. The market is expected to grow at a CAGR of 22.2% to reach $3.7 billion by 2027. While the 3D cell and organoid industry gain momentum, animals will remain an important part of research. New innovations and modern technologies are expected to develop alongside the animal model industry. The market share of 3D cell cultures will increase in areas where usage of animal models will become too costly or problematic regarding experimental design.
To read a more in depth analysis of the organoid market click here to purchase the report or download your complimentary report overview.
Become a member of the BCC Research Library and gain access to a full range of reports in your field. Contact a helpful member of the team today to discuss how this might benefit you or your business.