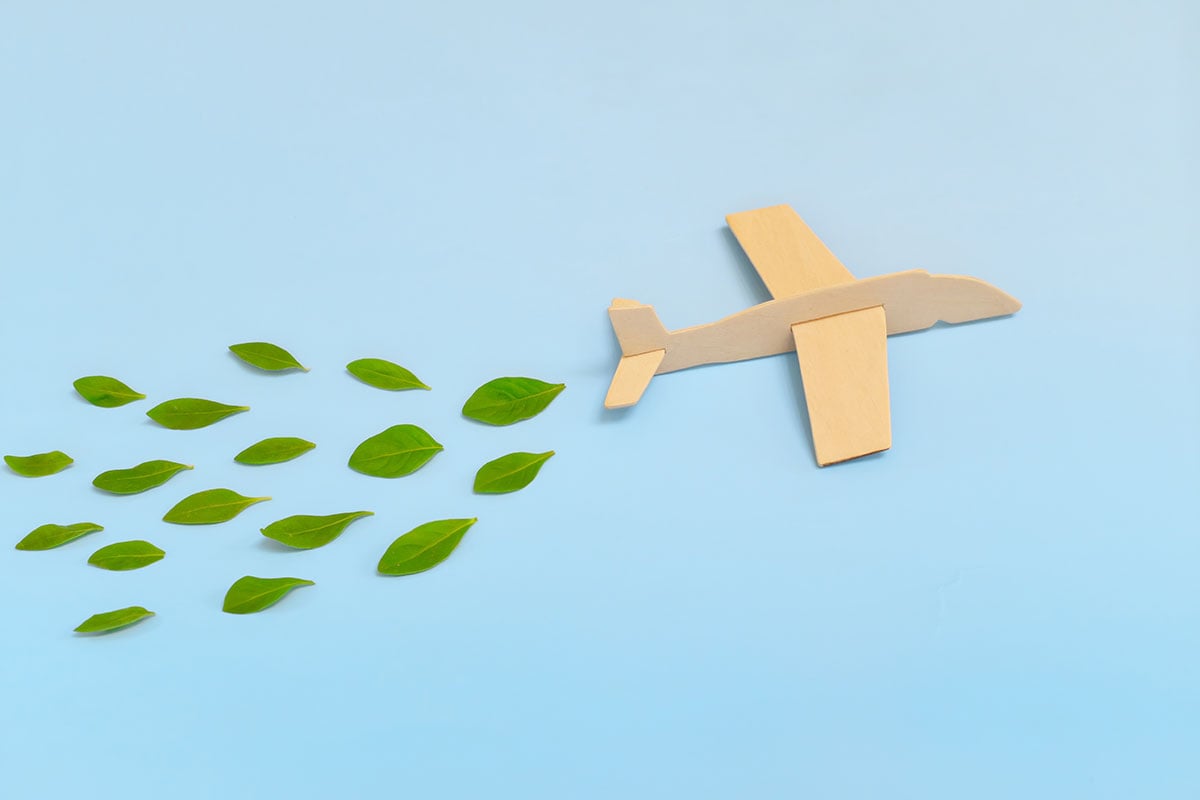 According to Air Transport Action Group (ATAG), the aviation industry is responsible for 2.1% of the global human-induced CO2 emissions and 12% of CO2 emissions from all transport sources. The need for a sustainable alternative to aviation fuel is imperative. Currently, most of the SAF produced is from biomass and municipal solid waste. As SAF is produced using renewable feedstock, it reduces carbon emissions by 80% in its lifecycle process. It also reduces other harmful gases like sulfur.
The aviation industry has been using alternative fuels since 2011. Today, more than 440 thousand commercial flights are using SAF, and many companies have signed offtake agreements with airlines. In 2021, the offtake volume agreement was announced at 9.2 billion liters; a drastic increase from 415.64 million liters in 2020. Established companies, as well as start-ups, are at the core of this growing industry, working towards total SAF within the aviation sector. The industry saw slow growth at first, however, SAF production has significantly increased since 2019 when major companies began to produce large amounts of SAF. With more organizations entering the market, the industry is expected to grow exponentially over the forecast period.
BCC Research has profiled each company within this space, taking into consideration their recent developments in this sector as well as their partnerships and R&D activity levels. In this list, we have compiled the key organizations driving the market as well as start-ups making a name for themselves in the sustainable aviation fuel industry.
Who are the leading companies in the sustainable aviation fuel industry?
Neste
Neste is one of the leading companies that produce SAF, renewable diesel, and renewable feedstock solutions for chemical and polymer industries. They have been producing SAF for over ten years under the brand name Neste MY Sustainable Aviation Fuel. Neste produces 100,000 tons of SAF annually and plans to increase its production capacity to 1.5 million tons annually (around 1.875 billion liters) in 2023. Neste's SAF is available in 12 airports in the US and three in Europe. To define themselves as a leader in this space, Neste are focusing on different partnerships to draw attention to their product.
Gevo inc.
Founded in 2005, Gevo is a renewable chemical and advanced biofuel company that produces fuels like SAF and renewable isooctane. The company is focused on producing liquid hydrocarbons that can produce SAF and other renewable fuels. The company plans to produce and sell one billion gallons of hydrocarbons by 2030. Gevo's primary focus is on producing SAF using carbohydrates as feedstock. The company has been focusing its efforts into increasing their SAF output to reach a goal of 55 million gallons annually.
World energy
World Energy is one of the largest suppliers of biofuel in North America. The company produces SAF, which is in commercial use today. The Paramount facility in California is the world's first SAF commercial facility.
The company plans to convert its biodiesel facility in Houston to produce SAF. This will add another 250 million gallons of SAF by 2025. It also intends to produce another 250 million gallons of SAF by 2025 from its Paramount facility in California. These production plans are part of its commitment to producing 1 billion gallons of SAF by 2030. The company also operates a SAF facility in Los Angeles, and it is expanding the plant to produce 375 million gallons of renewable fuel.
The company's current users of SAF are Amazon Air, United, JetBlue, Rolls-Royce, and Boeing.
Who are the start-up organizations to look out for in the sustainable aviation fuel market?
LanzaJet
Founded in 2020, LanzaJet is a subsidiary of LanzaTech, a technology company involved in carbon recycling. LanzaJet will focus on sustainable aviation fuels, diesel, and decarbonization of aviation, along with carbon recycling. The companies backing LanzaJet are Suncor Energy (a Canadian energy company), Mitsui & Co. (Japanese trading and investment company), British Airways, Shell, and ANA (All Nippon Airways, a Japanese airline). As a start-up within this space, gaining crucial partnerships and support from larger corporations will secure LanzaJet as key player in the SAF industry.
SkyNRG
SkyNRG is an aviation fuel service that sources, blends, and distributes SAF to airlines and its partner Shell Aviation. Since its establishment in 2009, the company has served 40 airlines globally. KLM Royal Dutch is one of the company's founding partners. SkyNRG also works with Boeing. Its strategic partners include Royal Schiphol Group, World Energy, and Shell Aviation. The company plans to expand their production facilities to be able to produce and supply one million metric tons of SAF by 2030.
What's next for the sustainable aviation fuel industry?
Transitioning to net zero by 2050 remains a key priority across aviation's value chain. With the key players working in collaboration, defining what it means to fly sustainably, and securing those vital partnerships with airlines, corporations, and more, the industry is inching closer to its goal each year. BCC's market report outlines the key growth factors, restraints, and opportunities that exist within this space. The report is an invaluable resource for industry participants, suppliers, government bodies, associations, and customers to make the informed decisions needed to compete and succeed in the marketplace.
To find out more about sustainable aviation fuel you can download your complimentary report overview by clicking here.
Alternatively, you can purchase the full report or become a BCC member and gain access to our entire report library across multiple industries. To discuss the many benefits of BCC membership, click the button below.