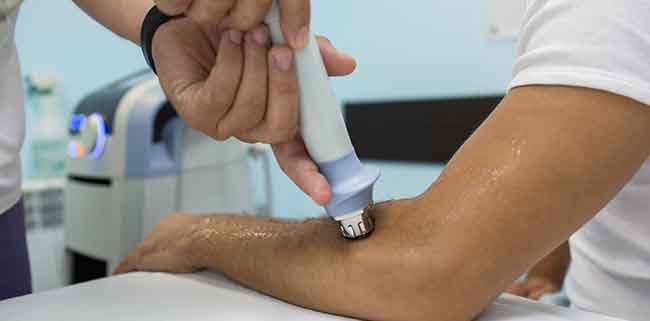 Shockwave Therapy Market Overview
Shockwave therapy is a non-invasive treatment that involves creating a series of low-energy acoustic wave pulsations applied directly to an injury through a person's skin via gel. Shockwave therapy is a treatment for lingering injury or pain that triggers and enhances the body's own natural healing response, eliminating or reducing the need for painkillers.
Several pharmaceutical firms have begun to use collaborative approaches to pain management, transforming themselves from traditional, fully integrated medical device companies into a fully integrated manufacturing and supply networks.
Several factors are driving growth in the shockwave therapy market: demand for shockwave therapy among patients; neurological side effects of COVID-19; a rise in orthopedic diseases; and an increase in R&D by key companies working on new shockwave therapies to counter the rise in neurological disorders globally.
Shockwave Therapy Trends And Projections
The global shockwave therapy market should reach $2.6 billion by 2025 from $2 billion in 2020 at a compound annual growth rate (CAGR) of 6.1%.




Electromagnetic shockwave therapy is expected to grow from $683 million in 2020 to $950.6 million in 2025 at a CAGR of 6.8%.




Radial or ballistic shockwave therapy is expected to grow from $574.8 million in 2020 to $781.6 million in 2025 at a CAGR of 6.3%.
10 Leading Companies in Shockwave Therapy
Bio-Med Inc. supplies equipment for physiotherapy, occupational and rehabilitation therapy, sport medicine, hospital furniture and air tube transport systems with efficient service support.
BTL corporate, founded in 1993, has become one of the world's major manufacturers of medical equipment. Its major segments include physical therapy, cardiology and medical aesthetics.
DJO Global Inc. is one of the leading global providers of high-quality orthopedic devices, with a broad range of products used for rehabilitation, pain management and physical therapy. It also develops, manufactures and distributes a broad range of surgical reconstructive implants.
EMS is more than 200-year-old company and a leading manufacturer of medical devices for dental prophylaxis, orthopedics and urology.
Inceler Medikal was established in Ankara in 2010, gaining customers with high quality service and providing support to famous brands. In 2012, designed its first product, a pneumatic lithrotripsy system called Lithobox, which has a kidney stone-crushing system with shockwaves.
MTS Medical is the leader in advancement of electrohydraulic ESWT technology. The company specializes in the research, development and manufacture of highly advanced Spark Wave Therapy systems.
Richard Wolf was started in 1906 by Georg Wolf in Berlin. The company has the expertise to play a major role within the development of shockwave therapy, and offers a variety of merchandise and systems for extracorporeal shockwave therapy and trigger-point shockwave therapy.
Storz Medical, established in 1987 as an independent partner company of the Karl Storz Group, includes physicists and engineers who continuously improve shockwave technology, develop new system concepts and identify new therapy indications with leading medical institutes.
Tissue Regeneration Technologies LLC (TRT)
Tissue Regeneration Technologies LLC (TRT) was founded in 2004 as SoftWave Technical Service LLC. TRT is a medical technology company that develops, sells and manufactures SoftWave devices used for treating a variety of medical conditions.
Zimmer MedizinSysteme is becoming more and more internationally recognizable by increasing its business globally. As one of the leading European makers for physiotherapy systems, MedizinSysteme offers innovative medical specialty products, diagnostic products and aesthetic products like hyaluronic fillers and more.
For additional intel into the global market for shockwave therapy...
Download a free overview of our report, Shockwave Therapy: Global Markets