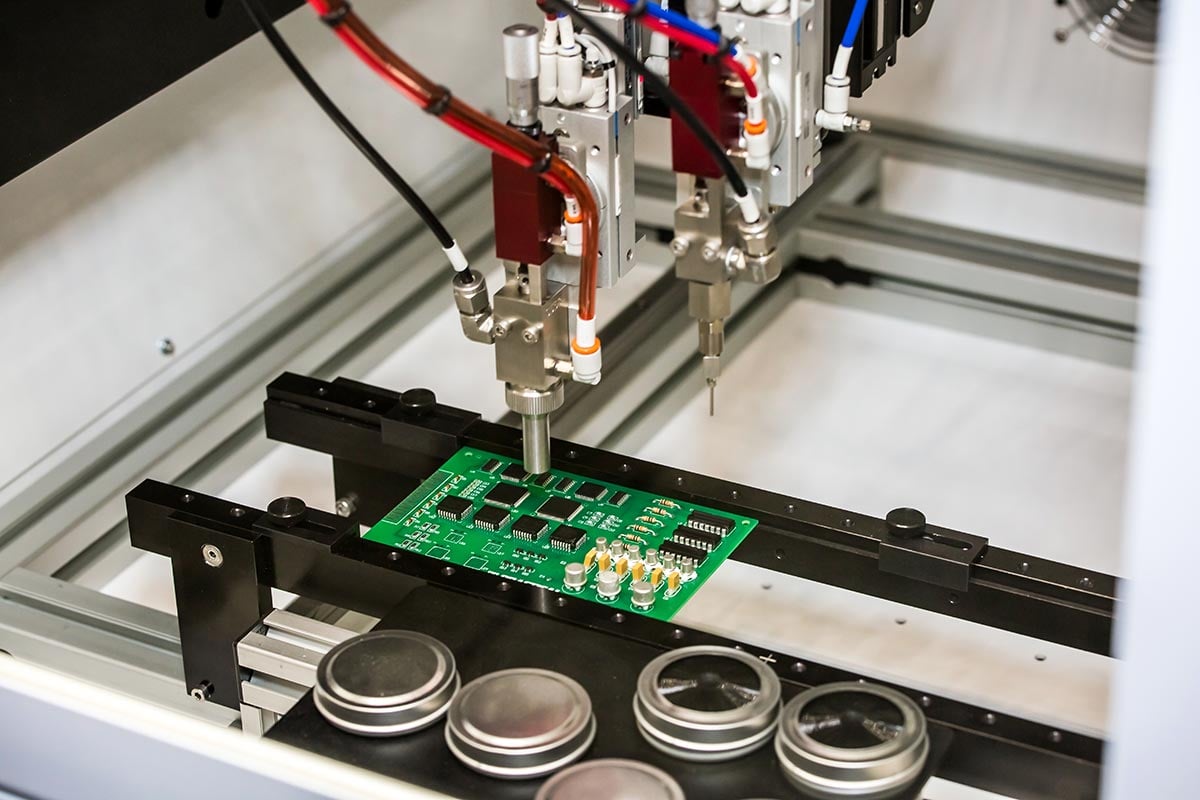 Worth around $2 billion in 2022, BCC Research predicts the global conformal coatings market will reach $2.7 billion by 2027, growing at a CAGR of 6%. Although the market is primed for growth, in many ways conformal coatings are a niche technology. We'll be exploring the industry dynamics before diving into the 10 key developments that have unfolded across the market in recent years.
What are conformal coatings?
A conformal coating is a protective coating or polymer film 25-75 µm that "conforms" to circuit board topology. In a nutshell, conformal coatings protect electronic circuits from harsh weather environments. They help ensure operational integrity and prevent corrosion.
The chemical composition of conformal coatings varies. From acrylic conformal coatings to urethane, from synthetic to silicone, each chemistry can offer different properties depending on the application. Silicones tend to be excellent temperature resistors, whereas UV-curable and synthetic rubbers resist humidity the best.
Coating chemistries generally follow the industry they're serving. For example, a circuit board installed in a car would typically use a silicone coating due to its temperature and moisture-resisting properties. For white goods, UV and moisture-cure acrylics tend to be used due to their ease of reworkability.
What are the key conformal coating market trends?
Conformal coatings see a huge amount of use in the automotive, military, aerospace, marine, lighting, and green energy industries. However, with electronics playing an increasingly significant role in daily life, applications for electronic systems continue to develop at a rapid pace.
On a larger scale, global warming could cause a change of direction in the conformal coatings industry. Bigger populations are leading to more consumption, but environmental awareness is driving more eco-friendly purchases. The demand for materials that are sustainable and environmentally benign is climbing, which could be a major driving force in the chemical coatings industry. As it happens, environmentally-friendly product launches have been some of the major innovations in recent years.
What are the 10 significant developments in the conformal coatings industry in recent years?
The industry is one of quality and innovation. Device failure could have serious consequences, which means high-quality products are critical. 2019-2022 brought a wave of developments that changed the face of the conformal coatings industry and propelled it into new areas of growth. From mergers and acquisitions to sustainable product launches, below are the 10 most significant industry events in the last three years.
1. ALTANA AG acquires Hubergroup India
In January 2020, ELANTAS, a division of the specialty chemicals group Altana, acquired the wire enamels activities of Hubergroup India, consequently broadening its business scope in India.
2. Chase Corporations complete acquisition of NuCera Solutions
Chase Coperations' completed acquisition of NuCera Solutions in September 2022 will expand Chase's global reach into new, blue-chip customers. NuCera, being a global leader in the production and development of highly differentiated specialty polymers and technologies, will help Chase attract high-growth end-markets like personal care, polymer additives, coatings, diversified consumer products, and masterbatches.
3. CHT Group expand its US headquarters by 45,000 sqft, creating 30 highly skilled new jobs
In 2022, CHT planned a $20 million dollar expansion of its US headquarters in Cassopolis, Michigan. This investment, as well as creating 30 highly skilled new jobs, will expand its global footprint, balance the supply base, and enable it to establish production redundancy.
4. Dow Inc introduce the new DOWSIL CC-2588 Conformal Coating
Dow's new product launch is a tough, abrasion-resistant silicone-based material that protects printed circuit boards against high humidity and corrosion. This was a key development in the industry as it represents a new, highly reliable and virtually odorless silicone-based coating.
5. Dymax partners with distribution partner Krayden
Dymax partnering with Mexico-based Krayden will help the brand promote the sales of their light-curing solutions to the electronics, automotive, aerospace, and defence markets throughout Mexico.
6. Electrolube announce pioneering new sustainable biocoating
In October 2021, Electrolube announced the launch of its new conformal coating, the UV Cure Coating XTRA. 75% of the organic content for the coating is obtained from renewable sources, yet the product is one of Electrolube's most versatile and high-level performance coatings to be released.
7. Henkel AG & CO KGaA invest in actnano
This investment allowed Henkel to enhance its market offerings for functional coatings. The advanced materials start-up provides a unique tailored conformal coatings technology for the protection of printed circuit boards for electronics.
8. Momentive Performance Materials announce general price increase
In March 2021, Momentive announced a further global general price increase for all speciality products.
9. Shin-Etsu launch MR-COAT-01F and 02F conformal coating series
This line of products features high hardness coupled with extremely high elongation for better abrasion resistance and less stress on printed circuit board (PCB) components.
10. Specialty Coating Systems acquire Comelec SA
This acquisition allows Specialty Coating Systems to expand its offerings of parylene, atomic layer deposition, and multilayer coating services in Switzerland.
Learn about conformal coatings for electronics markets
BCC Research's recent report dives into the conformal coating industry from both a technological and market standpoint. As product offerings expand and new applications emerge, understanding the competitive landscape becomes more and more valuable.
Download your detailed overview of Global Markets for Conformal Coatings in Electronics to gain an insight into the contents of the report.
At BCC Research, we publish a huge volume of reports within the Information Technology category. Our memberships grant access to the full spectrum of these, allowing you to gain a holistic and in-depth approach to the industry.
To enquire about membership, please get in touch with a helpful member of our team through the button below.